The bad actors left no stone unturned as the legendary metal band.
Metallica warned fans about crypto giveaway scams just ahead of the much-anticipated release of their new album, 72 Seasons. Scammers have started targeting
metalheads through social media impersonation for the upcoming tour. However, Metallica quickly pointed out "the ugly side of social media" and urged fans to stay away from Metallica Crypto giveaways, stating, "Let's be as clear as possible. Metallica's crypto giveaways are scams."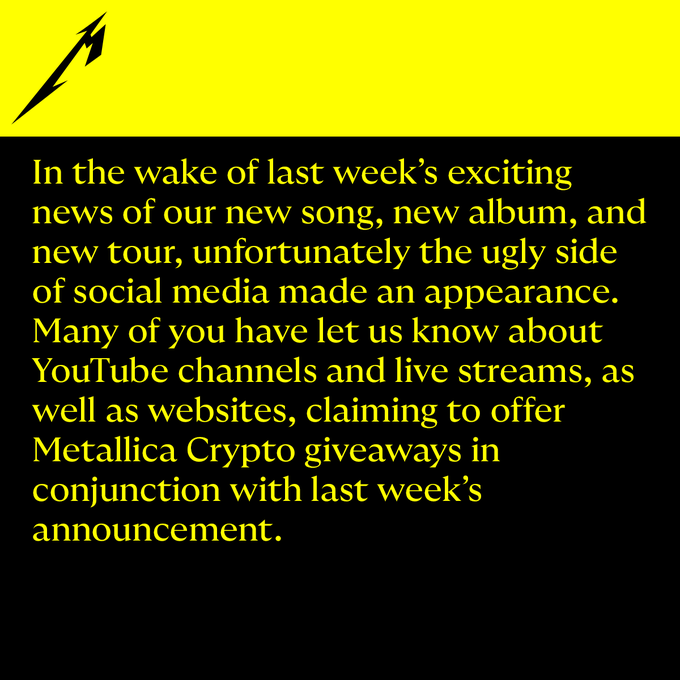 Sad but true, recently highlighted an increase in cutting-edge scams on YouTube, which has increased by 500% in one year, according to blockchain security firm CertiK. Metallica's ongoing scams add to the stats, as the band warned about fake YouTube channels that link to unofficial phishing websites. Fans have also been asked to limit their interactions to verified Metallica accounts, particularly regarding information that could be considered "wild and crazy to be true." While the crypto community is aware of the telltale signs of a scam, the alert aims to warn general and non-crypto fans that they could become victims of the new scam more easily.
Crypto scammers didn't even spare FTX CEO Sam Bankman's victims when fake videos surfaced promising a "giveaway" that would "double their cryptocurrency."