Chiliz (CHZ) looks bearish as it is down as much as 64% in 50 days. Powered by partners, this sport and entertainment-based blockchain platform allow fans to interact with sports brands and teams. Here's a quick look at the cryptocurrency's performance so far: Chiliz is down 0.70%
Sellers considered dominating bear market CHZ is down as much as 64% in just 50 days. However, users can take full advantage of the platform to bet and share exclusive information and news about their favorite sports teams. And they are freely sharing your thoughts on the latest news.
CHZ Currently Trades At $0.1085
According to CoinMarketCap, CHZ is down 0.70% as of this writing and is trading at $0.1085. In this scenario, the sellers have the upper hand, while the buyers must persevere and wait for the market to turn bullish and stabilize demand before bidding. Chiliz is a crypto exchange using the CHZ token, designed explicitly to purchase fan tokens, which give users the power to decide and rule over specific policies, stadium names, team rosters, franchises, and player choices. 
In addition, the CHZ token also works similarly to BEP2 on Binance and ERC20 token on Ethereum.
Hitting The Oversold Zone
Chiliz has been spotted crossing the $0.1637 to $0.29 line since August. Now breaking the lows in this range and retesting as resistance in December has shown that the sellers have an obvious advantage in the market. RSI for CHZ is reported to have fallen below the neutral 50 range on 20th November. 
It currently stands at 9.2, which means it has entered oversold territory. Notably, the CMF declined over the same period, with significant capital withdrawing from the market.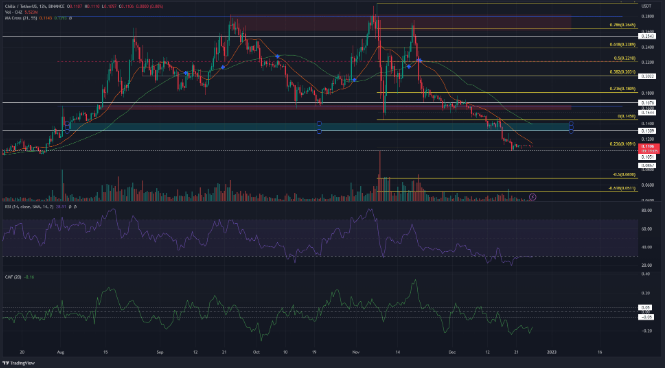 For the past few days, the Fibonacci extension level that served as support was $24.3 versus $0.107. Sellers can target the short position given the 21 SMA that acted as resistance this month. Sellers can target $0.088 and $0.073, shown as taking profit levels.
Chiliz Price Prediction
Meanwhile, Anton Kharitonov, a crypto analyst at Traders Union, has a different prediction for Chiliz's price. According to Kharitonov, Chiliz will fluctuate between $0.00558 (low end of forecast) and $0.0167 (high end of forecast) by the end of 2023. Kharitonov's analysis suggests that the price of CHZ will rise to $0.20 bis placed.